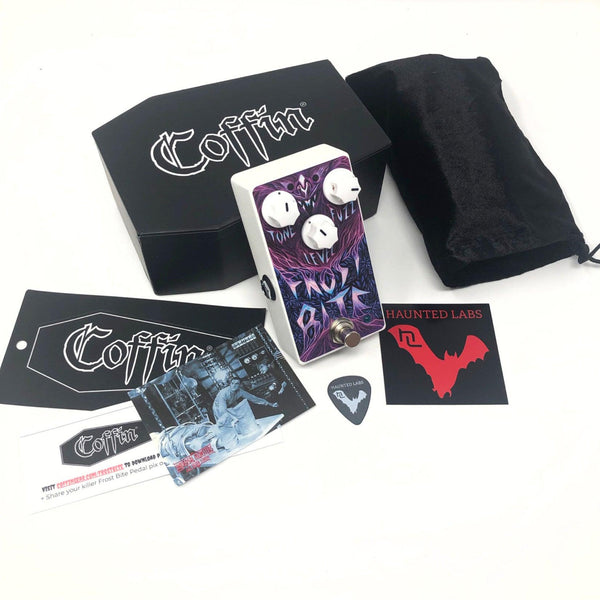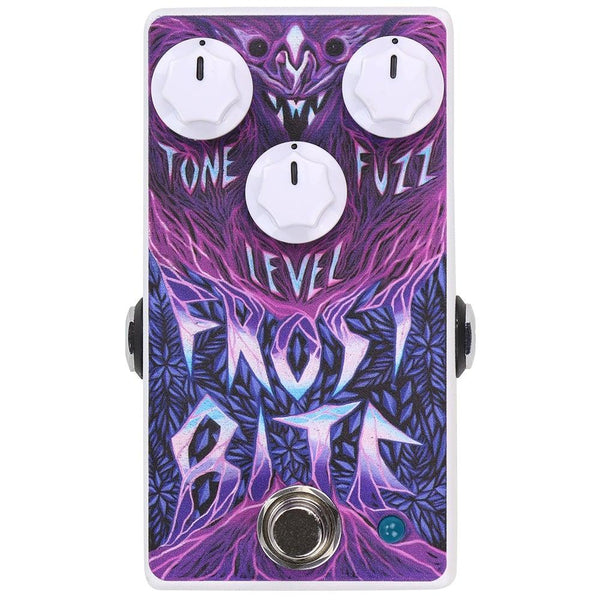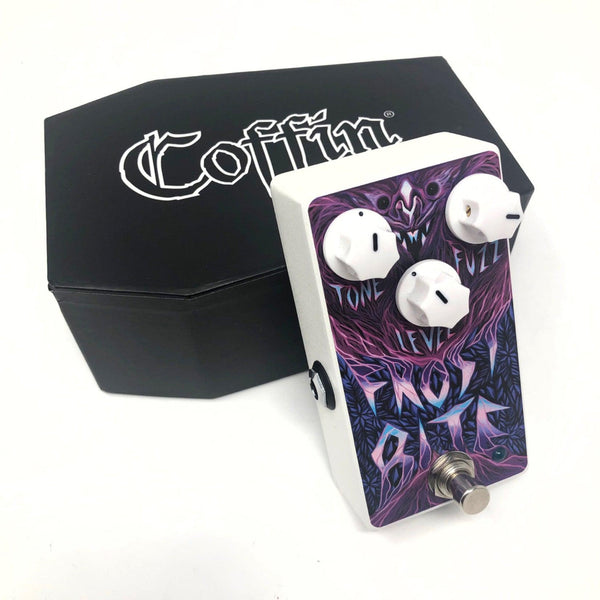 Coffin / Haunted Labs Frost Bite Fuzz Pedal - Limited Edition - Only 250 Made!
Coffin / Haunted Labs - Frost Bite Fuzz
Limited edition - only 250 made!
Brand new in original packaging! We are an authorized dealer!
My distorted dudes and dudettes--setting aside the evocative "evil" imagery in the promotional text, I'm here to tell you this fuzz means business. In our testing, it sounded great--mean and aggressive without losing control or mellow and snarling, wherever you like it. As for bass, well it made my Rick sound like a chainsaw--in the best possible way. The build is super solid with quality components. The knobs were nicer than I expected--a real solid white plastic, not cheap feeling, and the white (with sparkles) main paint job has a good matte texture that glistens like a fresh snow bank.
Coffin wants you to know:
Conceived in collaboration with boutique pedal maker Christopher Cozort of Haunted Labs, Coffin is proud to present our first new effects pedal in over 10 years: The Frost Bite Fuzz!
Evoking an ice wraith in a flurry of blinding snow, the Frost Bite features a unique custom silicon fuzz circuit and three rugged knobs (Tone, Fuzz, and Level) designed to forge a versatile and otherworldly range of sounds. Capable of conjuring all the classic fuzz tone you crave, the Frostbite can also summon some shocking and unusual character... turn the fuzz knob down for a cutting, clean boost, or crank it up to 11 for a furious blizzard of howling fuzz. You'll probably be more likely to survive a vampire attack or an arctic blizzard than you will be to exhaust all of the possible rich and devilish permutations of tone that the Frost Bite can deliver.
Frost Bite Pedals are engineered and manufactured in the USA, utilizing the finest components available, with exclusive artwork created by artist Martha Wirkijowski and inspired by a frozen nightmare. Entombed in a durable aluminum housing with a traditional low-profile form factor, the Frost Bite delivers a vortex of apocalyptic fuzz tone without crowding your pedal board. The Frost Bite also features true bypass switching and can be powered by a standard 9V DC adapter.
Against roaring wind and winter's icy grasp, the fierce sound of the Coffin/Haunted Labs Frost Bite Pedal cuts through the noise with white-hot abandon.
Unique custom silicon fuzz circuit
Designed and manufactured in the USA
Three rugged knobs (Tone, Fuzz, Level)
True Bypass Switching
Powered by standard 9v DC adapter (no battery compartment)
~2.5mA draw
100% pure evil