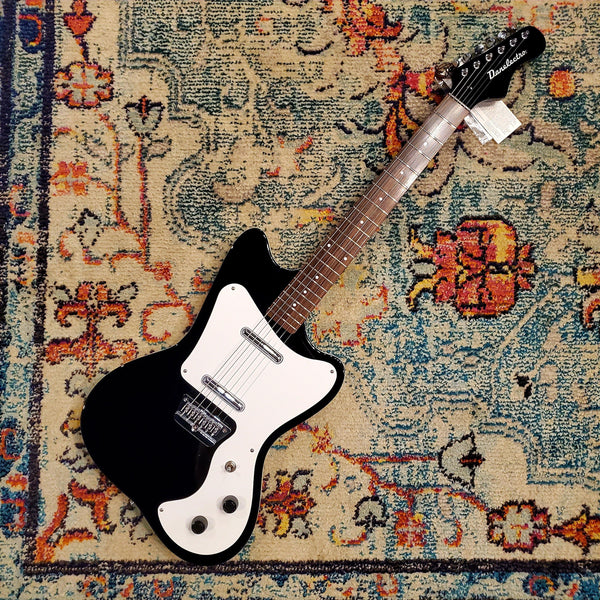 Danelectro '67 Reissue Hornet Dano - Black
Inspired by the Past with Present Tone and Feel
In a nod to the late '60s, Danelectro offers up the '67 Dano. This cool solidbody captures the vintage look, feel, and tone of the early days of rock 'n' roll with its spirited offset body design — a nod to the days of surf rock and the beginnings of the "garage band" craze. The '67 Dano is constructed from an alder body that is lightweight and delivers a signature, jangly midrange tone. In addition, a maple neck with pau ferro fingerboard offers wonderful playability and response. And when you plug in, Lipstick single-coil passive pickups deliver a gorgeous vintage tone.
One-of-a-kind pickups
The twin Lipstick pickups in the '67 Dano have a one-of-a-kind tone that captured the imagination of so many guitarists when they first came out. With their coils wrapped around an Alnico VI magnet and then wrapped in tape, these pickups harken back to the vintage tone of rock's earliest days. The result is a tone that truly stands alone — jangly, midrange punch, and treble kick. And with a 3-way pickup selector and bridge and neck volume and tone controls, you will have a lot of options for dialing in your tone.
This is a brand new guitar sold by an authorized retailer. 6.9 pounds