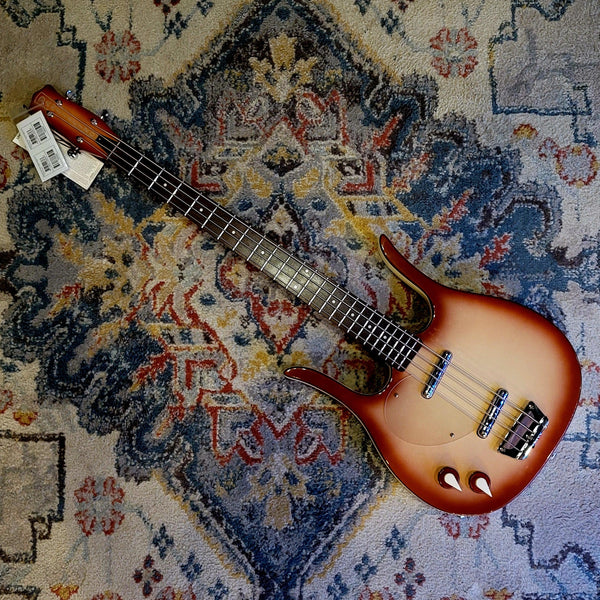 Danelectro Longhorn Bass - Left Handed - Lefty 1958 Reissue - Copperburst
The classic look and sound of the Danelectro Longhorn Bass guitar is back and better than ever. This short-scale bass sports an easy to play 29.75" length, and a 24-fret neck for extended-range playability. If you're looking for fat, vintage tone, then you'll appreciate the dual Lipstick pickup configuration of the Longhorn Bass. Try flatwound strings for a punchy, upright-style sound. Or play roundwounds and add a bit of grind for instant rock mojo. Everyone from pick players to finger players love the playability and sound of this vintage-vibed bass. For a character-packed alternative to more common bass tones, add the Danelectro Longhorn Bass to your collection.
While it may have not sold the numbers other classic bass guitar designs have, the double-cutaway, short-scale Danelectro bass guitar has an incredibly identifiable tone all their own. The Danelectro Longhorn Bass captures this vibe for you in spades. Built firmly in the vintage design of the older Danos, the Longhorn Bass gives you the thumpy, round tone you'd expect from a vintage-style, 29.75" scale bass.
The Danelectro Longhorn Bass is a favorite among pick players for its percussive attack and deep tone. Finger players love its warm and smooth sound. It has enough punch to make slappers happy and to cut through at a rock gig. A pair of high-output Lipstick pickups deliver fat vintage tone on command. And a pair of stacked volume/tone pots let you sculpt your tone to perfection.
Like a great many vintage bass designs, older Danos can sometimes fall victim to reliability issues. But you'll be able to gig your Danelectro Longhorn Bass without worry, thanks to modern updates that bring the bass up to today's high-quality production standards. Each instrument is gone over and set up in Danelectro's California warehouse for the best playability possible.