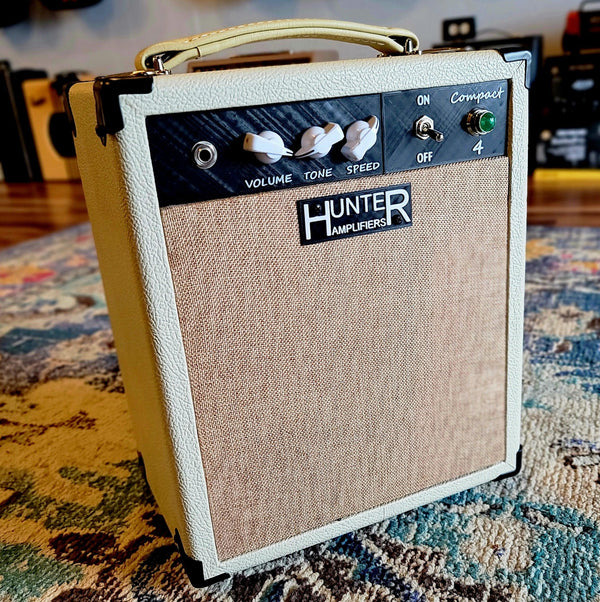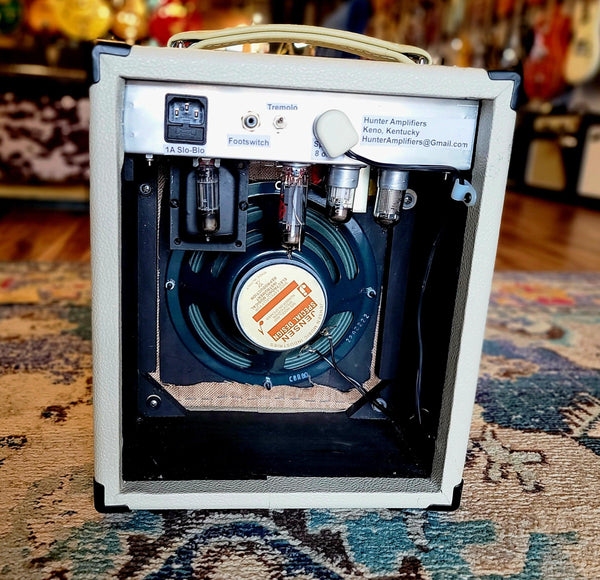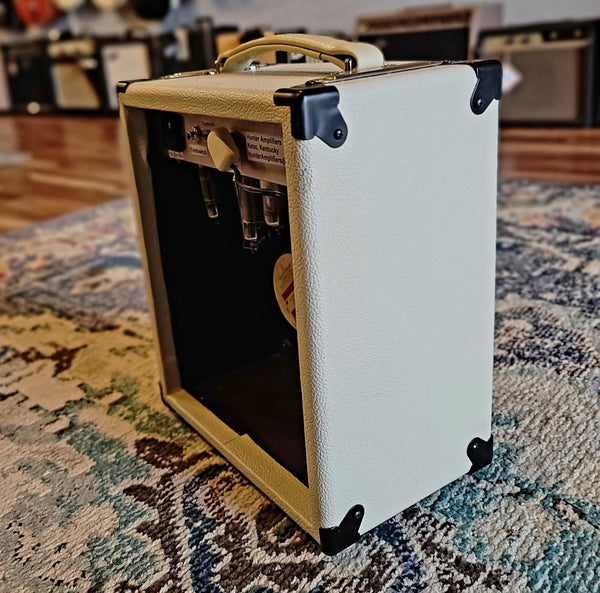 Hunter Amplifiers - Compact 4 - British AC-4 Style 6-watt EL84 - 8" Jensen - Cream
From the builder: "Hunter Amplifiers Compact 4 It's a pretty accurate rendition of VOX's early-60s AC-4. It uses a pentode preamp tube instead of the triode used in the reissues, and a pentode has 66% more "-ode" than a triode (do the math!) All of that results in a rich, smooth tone that, to paraphrase VOX's 1964 catalog, makes for "A fine little amplifier for the soloist".  Featuring a single input with tone and volume controls. Fitted with an 8″ loudspeaker and a jack for a foot-operated Vibrato on/off control." So, it's 6 watts of EL84 power into an 8" Jensen (C8R) fitted inside a solid pine cabinet covered in cream Tolex with steel corners. No kits; it was all made here in beautiful Keno, Kentucky. It's a perfect bedroom or recording amp, or you can mic it and play a stadium. 13.5 x 11.5 x 8 inches and less than 20 lbs. "

From the shop: "Hunter Amplifiers is truly a one-man operation: the same person that hand selected the components is the same person that sawed the lumber. No kits were used, this is a real-deal handbuilt amplifier. The tremolo on these is ridiculously usable. It's the kind of thick, warm vibrato that we're all chasing. It seems to have a way of inspiring people to play differently. The Compact 4 is one of our most requested Hunter Amplifiers. It's just more usable than an AC-4 and twice as cool. Anyone can buy an AC-4, but it takes a true enthusiast to play a one-off hopped-up version built in a shack by a craftsman in Kentucky. Be unique. Play a Hunter."