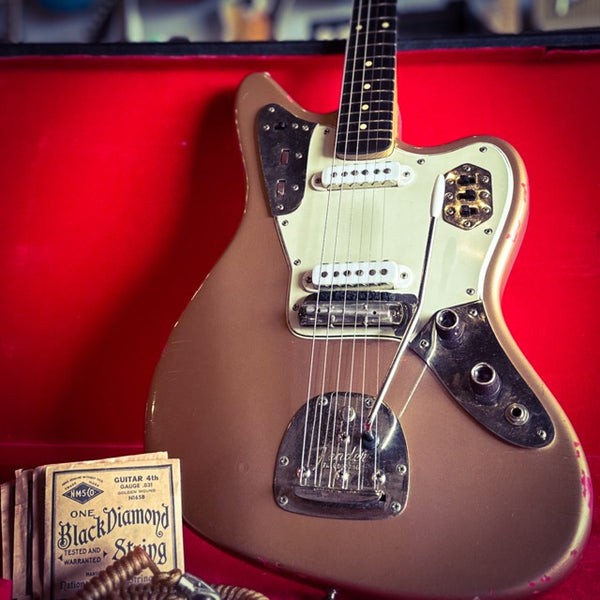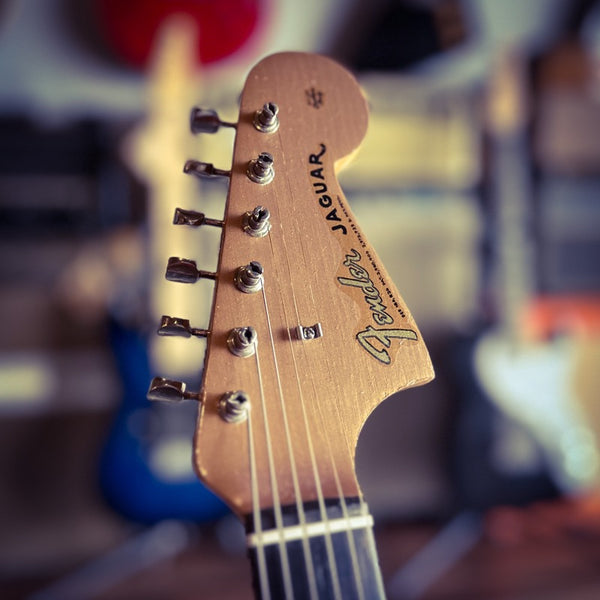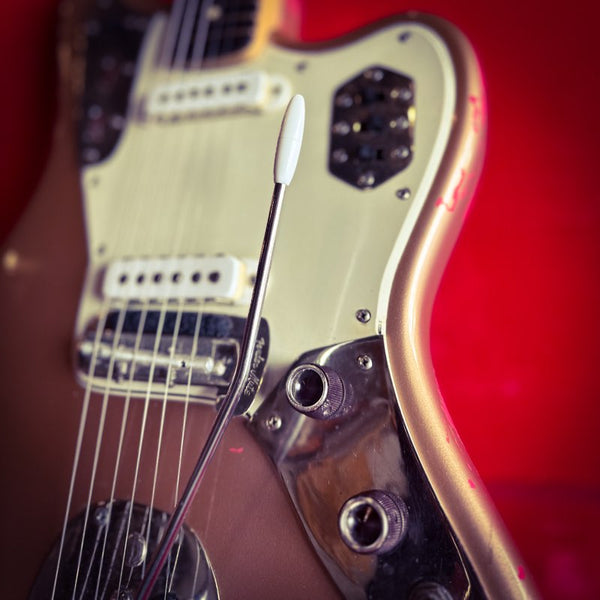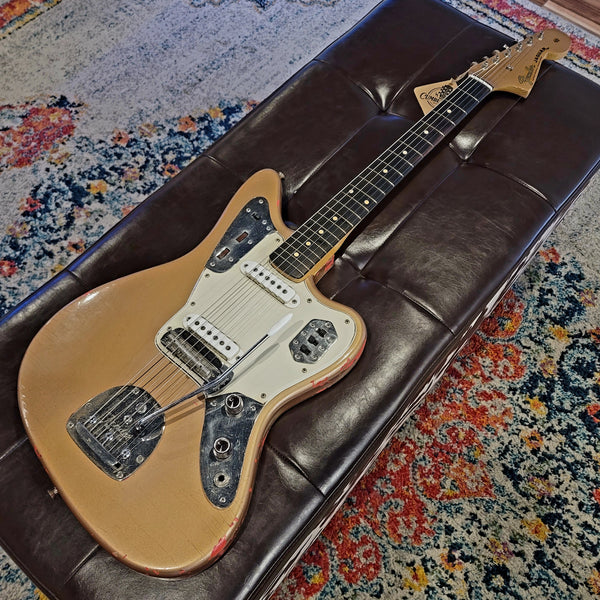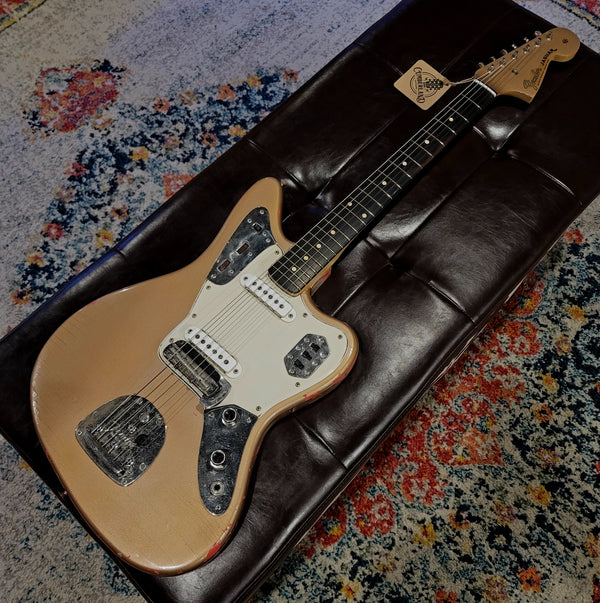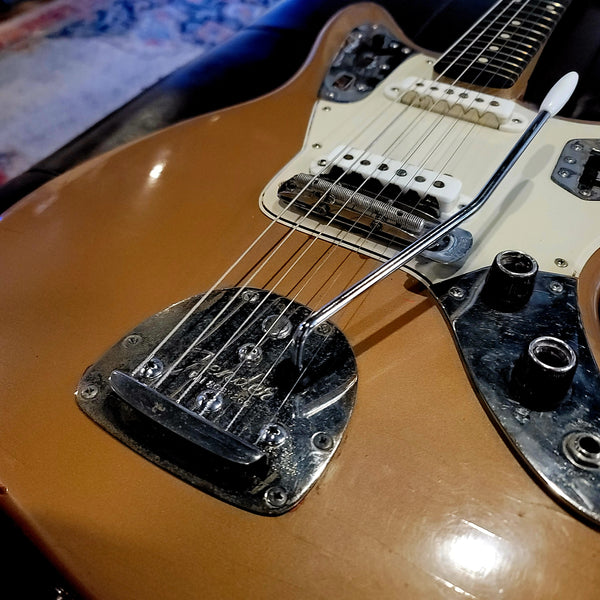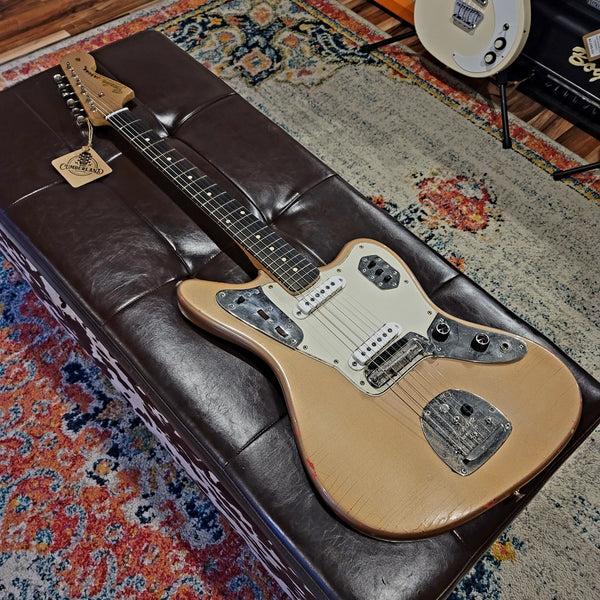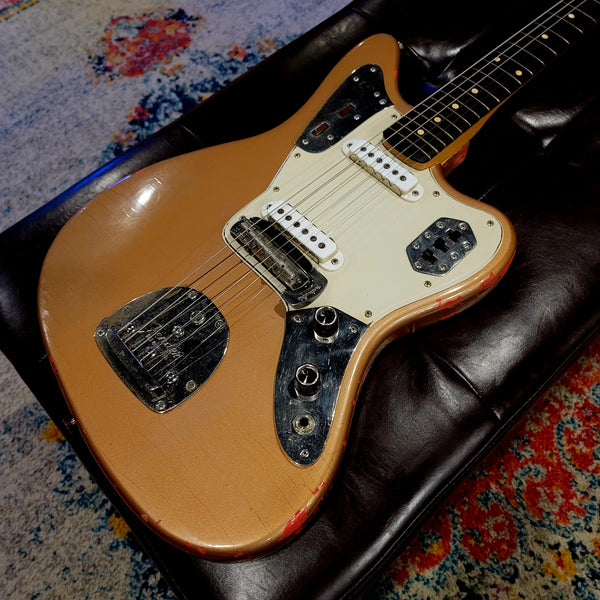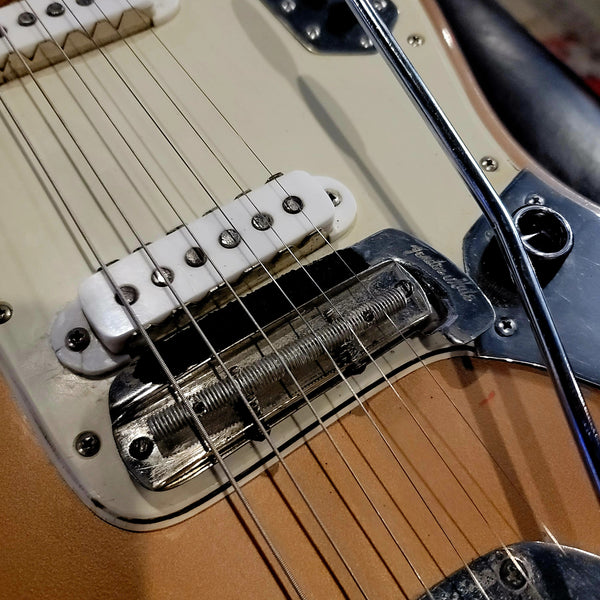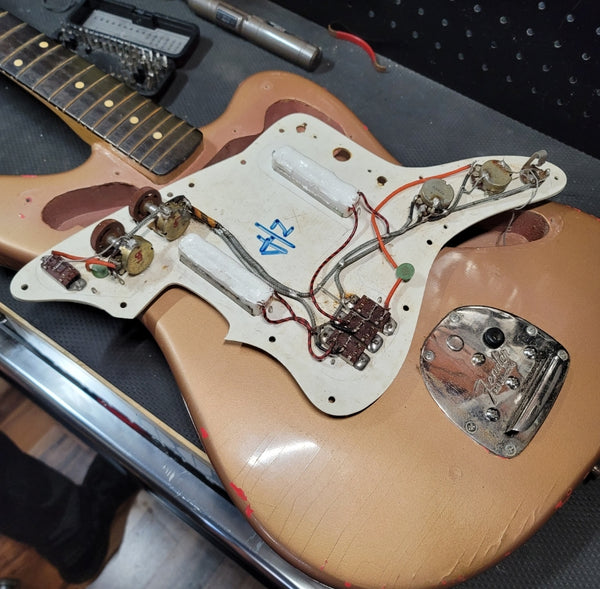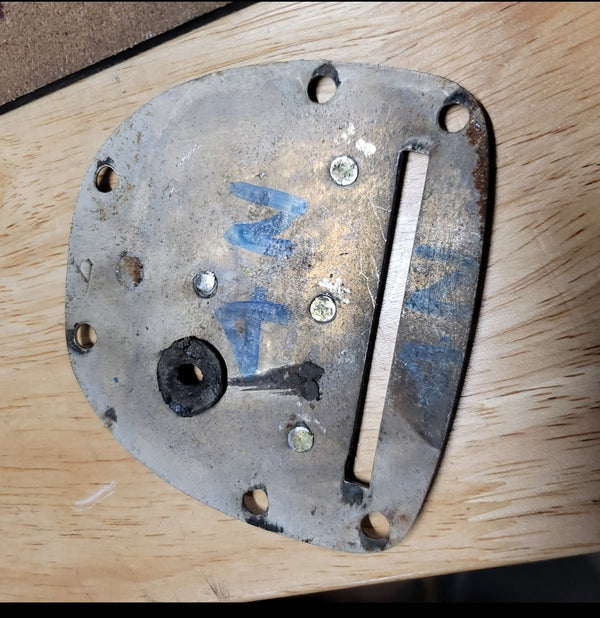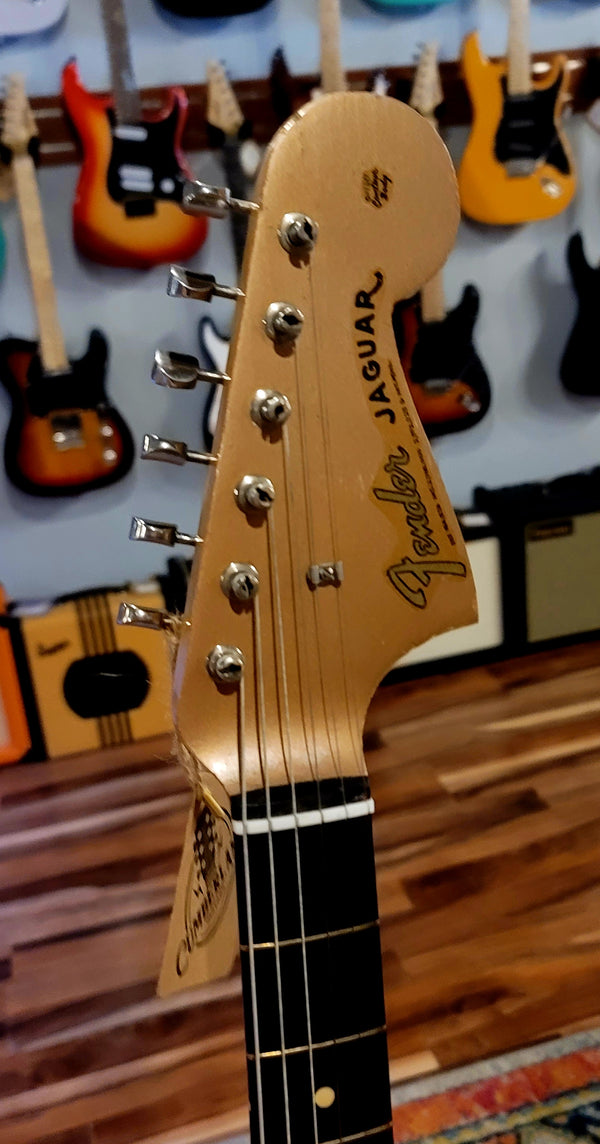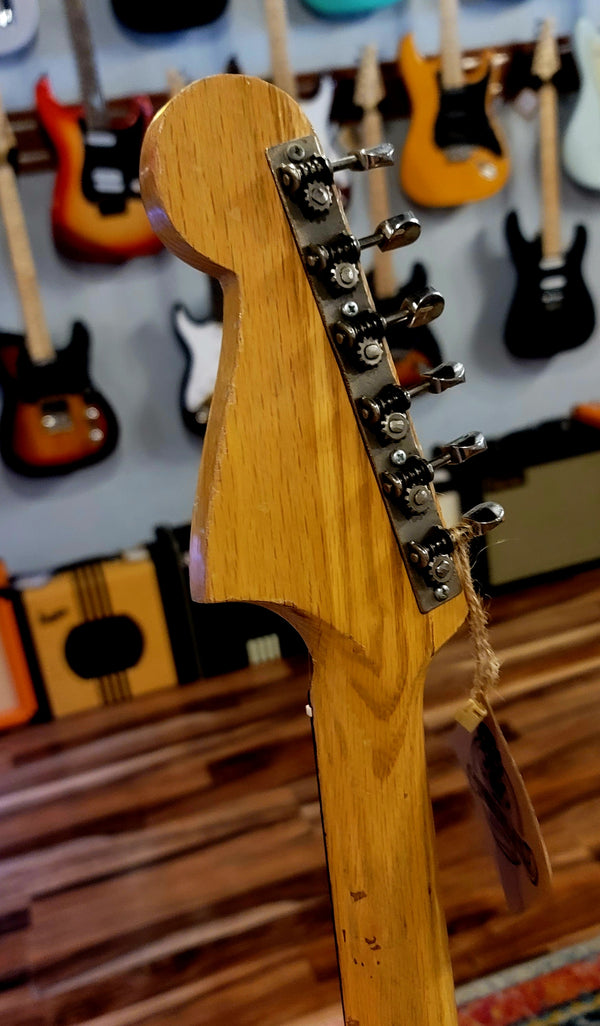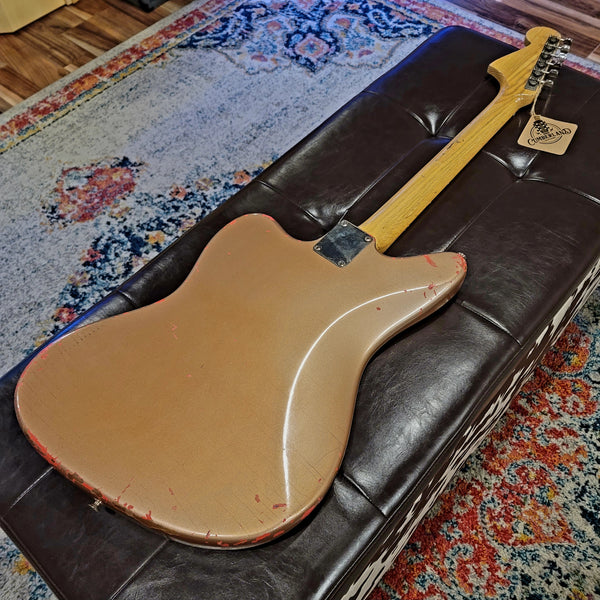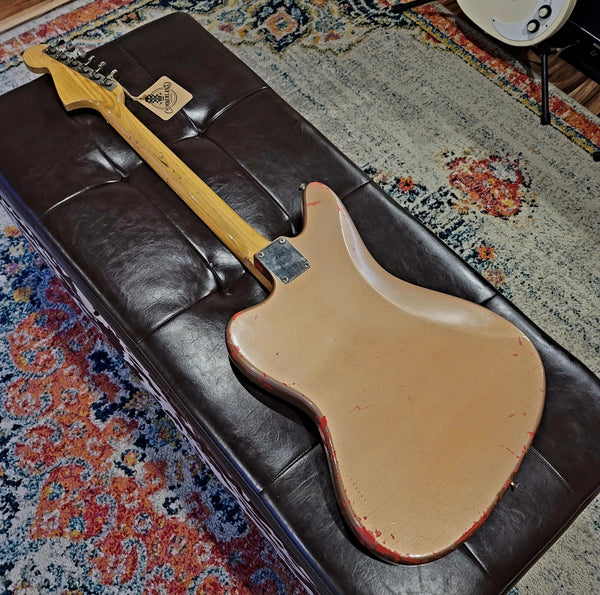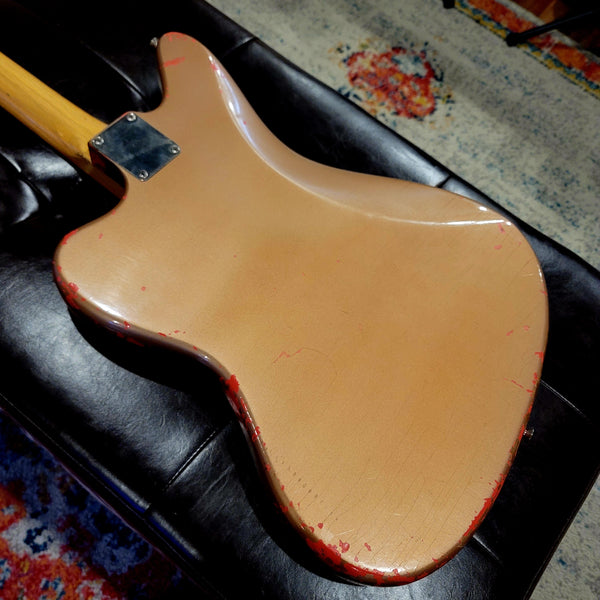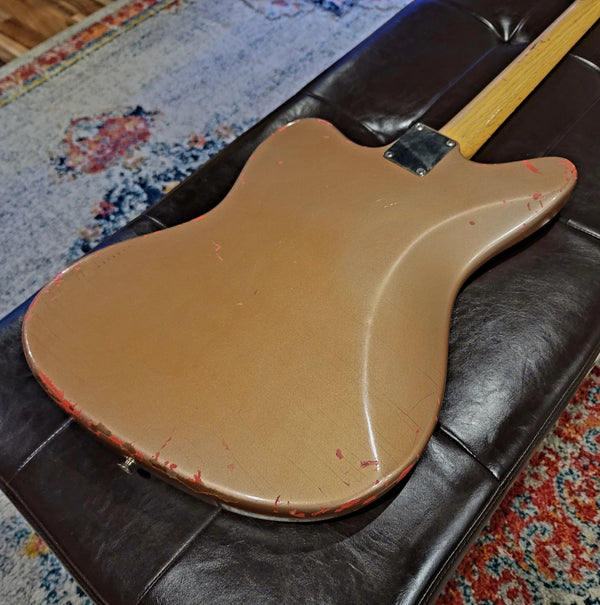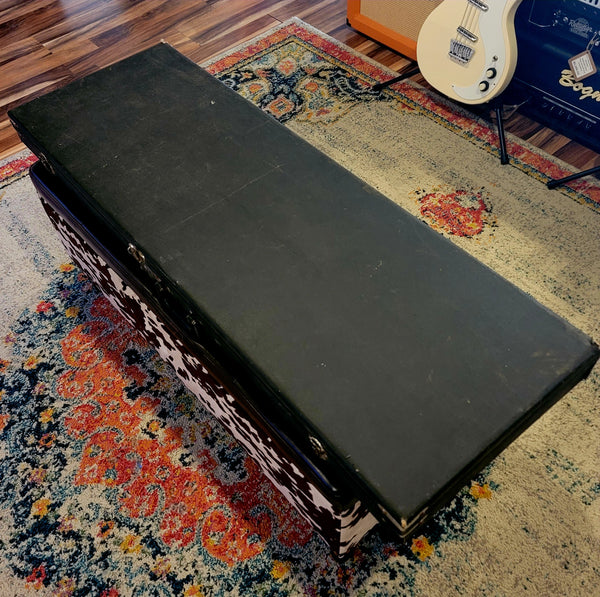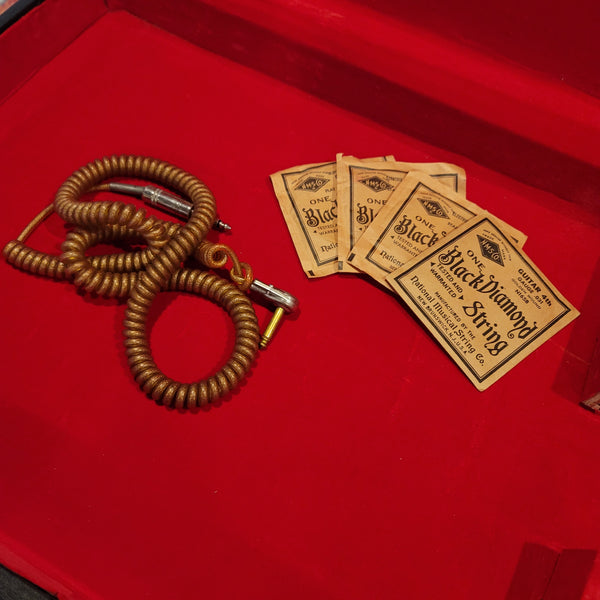 1960's Serviceman Fender Jaguar - Burgundy Mist - Matching Headstock - Hardshell Case
For your consideration, a 1960's Serviceman's Fender Jaguar Copy. 
The Servicemen Era of vintage guitars is misunderstood and underappreciated, which is likely why we are so fond of them. Most of the American troops headed to fight in the Vietnam War has to pass through the Philippines, where locals had quickly realized that making copies of the things soldiers loved back home could easily be sold to them for a profit. I can't imagine being shipped off to fight a war and having to put life on hold and leave everything behind. I was not there, but I've spoken at length with owners of Serviceman guitars and they all say the same thing: the guitars represented home. 
Serviceman Era guitars were not manufactured in factories, they were built in people's homes and in small workshops. They were not mass-produced and the quality varies wildly. So many of the ones we see are very crude, and likely built only from using a Fender brochure as a reference. Some, like this one, are quite accurate and suggest that an authentic instrument was available to be examined. A Fender connoisseur can spot the shortcuts that have been taken, but most will think this is an authentic Fender. We have really enjoyed handing this guitar to some of our regular customers who are quite knowledgeable about vintage guitars, and seeing how long it takes them to notice something isn't quite right. Most thought they were holding a Fender until we told them otherwise. Fun! 
This guitar is the best from this era that we have seen. It is absolutely dripping with mojo. Seriously. Walk into our store and see. This one can be felt from across the room. Look through our other 200 guitar listings... I have never said that about another guitar! The guitar is built in the style of an early 60's Jaguar, with no neck binding and clay dot inlays. Most of the Serviceman Jags seem to be based on 1965-onward specs. The Burgundy Mist finish has mellowed with age and is doing that cool thing that Burgundy Mist does so well where it looks gold and sometimes brown depending on the light in the room. The lacquer is checking throughout, and the red undercoat is visible where the top layer of color has chipped away around the rim of the body. The matching headstock completes the look, of course. The neck is straight and fretwear is minimal. All of the electronics are original to the instrument, and have been fully cleaned and function perfectly. The controls look the same as a stock Jaguar, but they function a little bit different. The pickups are healthy, and all knobs, switches, and the output jack work without static. The tremolo tailpiece lock is just cosmetic and does not actually lock the trem. Sneaky!  That's one of those shortcuts we talked about earlier. The tremolo does work and actually feels better than the silly tremolos that came on actual Fenders. The trem arm is the only piece on the guitar that is not original, as we made it in our shop. The lever actuated bridge mute system does work, but some of the foam dampening material has crumbled away. We gave the guitar a complete setup, including a fret polish, fret end dressing, fingerboard hydration, a 1-degree Maple neck shim to improve playability, and fresh strings. The action is low, the intonation is excellent, and the guitar is a blast to play. It nails all of the Jaguar sounds one could ever want!
The original hardshell case is included, and it has its own funky vibe going on with its bright red interior. The original color matching coiled cable and some 1960's Black Diamond strings are also included. 
None of these guitar builders were keeping records, and from what our research shows, it was rather difficult to try and get one back into the country after your tour was over. We may never know how many were made, and how many survived, and how many made it home. It's unfortunate, really. They've got a good story to tell!