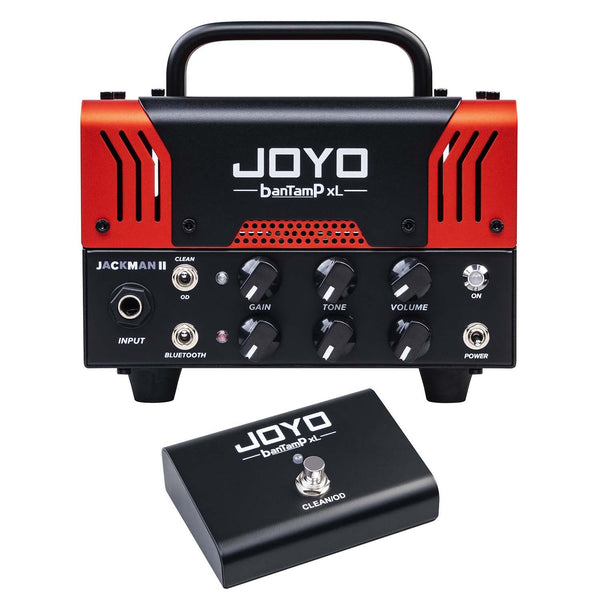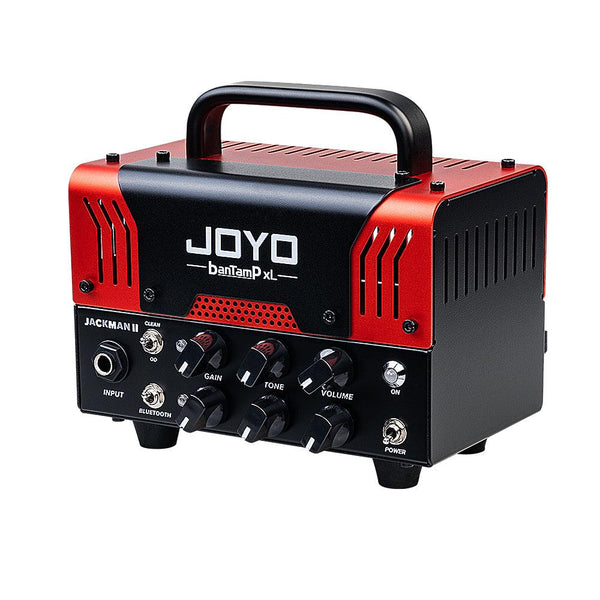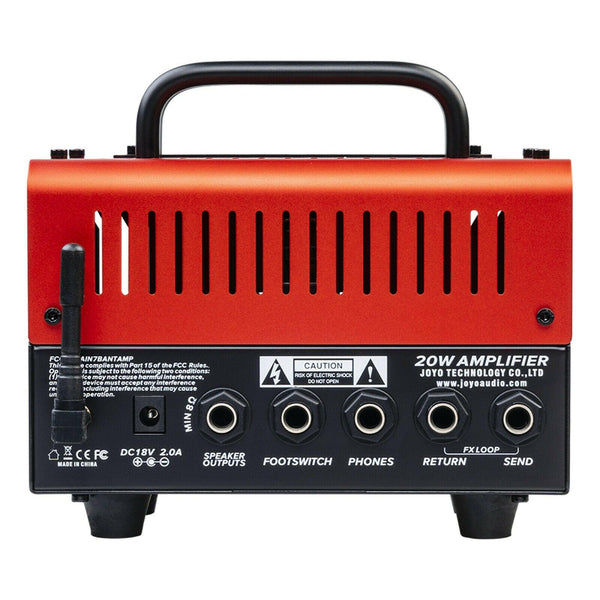 Joyo BANTAMP XL Jackman II 20-watt Guitar Head Amp w/12AX7 Tube Preamp
PRODUCT DESCRIPTION

BanTamP XL Jackman II 20 Watt Tube Guitar Amp Head Hybrid - Classic British Rock
Since the release of the BanTamP series, JOYO amps have taken the world by storm and received amazingly positive feedback. Now, Joyo has optimized the BanTamP series and have developed the brand new BanTamP XL series! Retaining the tones and functions of the originals, the BanTamP XL series features a channel switching footswitch, and the two channels' parameters can now be controlled independently! The BanTamP XL series is definitely a better choice for musicians who love to perform with these amps!
The JaCkMan micro head blends valve and solid-state guitar amplifier technology, resulting in a tiny amp head that can produce an immense sound representative of a classic British amp. At only 163mm x 110mm x 140mm, and weighing in at only 1.2kg, the JaCkMan still fills some giant shoes with ease, boasting a mid-gain drive sound that reacts beautifully to your playing and guitar volume.
Just like the classic rock monster, the JaCkMan can really sing when you push it further. We recommend using a TS-type distortion pedal (like the Joyo BAATSIN, Green Legend or Vintage Overdrive) to push it into higher-gain territory. This little terror has more rock in it than the whole of Blackpool. (Blackpool is a British Seaside resort famous for its 'rock' of the confectionary kind).
The JaCkMan has a 1 x 12AX7 Preamp tube, which retains the character of your guitar whilst adding great tube-driven tones! The 12AX7 pre amp tube produces warm, smooth overdrive tones that do not clip tone harshly as a typical solid-state amp head would. The pre-amp has sonic focus on fattening gain stages yet keeps your guitar sounding true to its original tone.
Clean Channel
Flick the JaCkMan amp to the CLEAN channel for an awesome pedal platform. A two-channel amp makes a guitar head twice as versatile as alternatives and makes a great companion for musicians at practise or out on the road. The JaCkMan has enough headroom to keep it clean at volume, and the tube pre-amp plays beautifully with overdrives and boosts.
Distortion Channel
The JaCkMan comes alive with its gain settings. Push the drive and you will hear the JaCkMan scream, and you can use your favourite overdrive pedals to push it even further into higher gain territory and add your own unique flavour. The FX loop enables you to put your modulation and time-based effects (Phasers, Flanger, Tremolo, Delay, Reverb and Chorus) after the JaCkMan delivers its drive magic from the tube pre-amp, and before the solid-state power amp. This keeps these effects clean and will prevent them from becoming muddied from the amp gain.
Bluetooth Wireless Connectivity
Pair your Bluetooth device to the JaCkMan and jam along to your favourite classic rock tracks, connect your external device via Bluetooth and play your audio tracks cleanly through the amps Bluetooth receiver channel. We find that this is a great way to practice the guitar and to learn new songs without a big tangle of wires.
Headphone Out with Built-in Cab Speaker Amp Simulation
The amp has a speaker out rated at 8 ohm and can also be operated at 16 ohm.
Careful, the amp is small, but 20 Watts is loud and will deliver a handful. If you want to practice quietly, use the built-in headphone out with speaker emulation, you get the same great tone as you would from a 150-watt mega amp.
Once you start working with this amp, you will soon forget its size. You will not forget the very affordable price and amazing tone it delivers. It will feel as if you are playing through a much bigger head amp and your audience just won't believe where your sound is really coming from.
The Tech Features
Brand: Joyo
Model: BanTamP XL Jackman II
Features:
1 x 12AX7 Preamp tube
Clean and Overdrive channels (foot-switchable)
Independent Gain/Tone/Volume controls for each channel
FX Loop
Bluetooth 4.0 for backing tracks
Rated power: 20W @ 8 ohm
Speaker impedance: 8/16 ohm
Size: 163mm x 110mm x 140mm
Weight: 1.2kg
Headphone output: 3.5 mm mini-jack with Built-in Cab Speaker Simulation
Power: Connect with an 18v/2.5A power adapter as supplied.