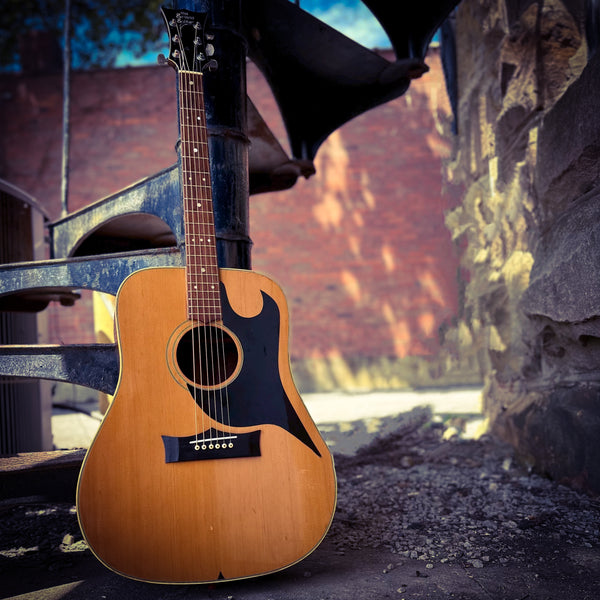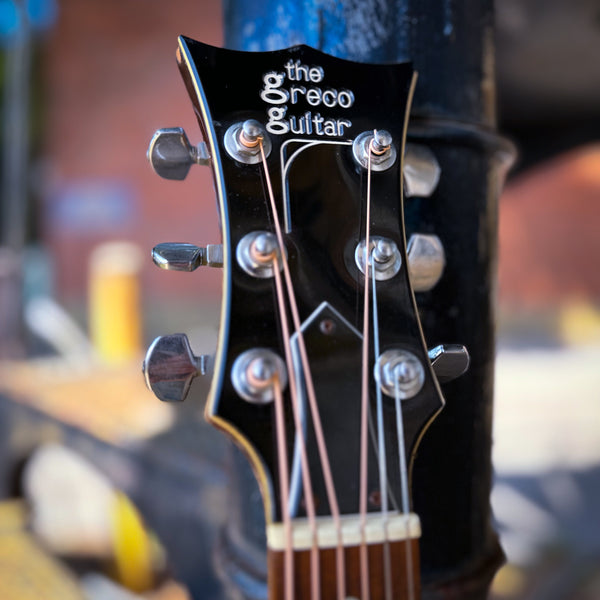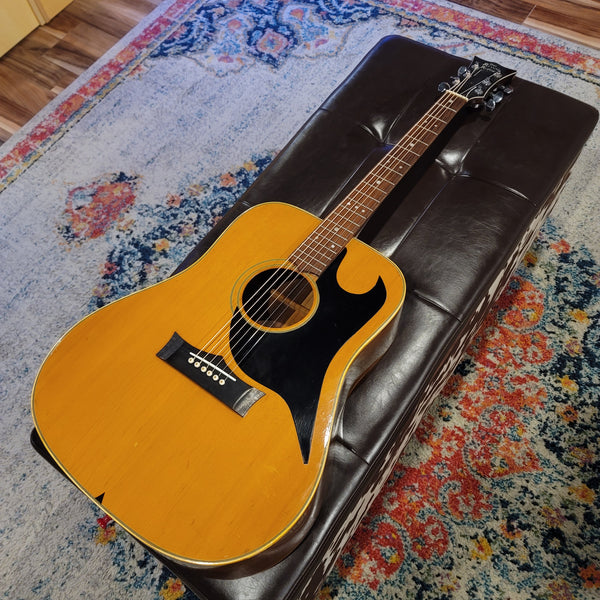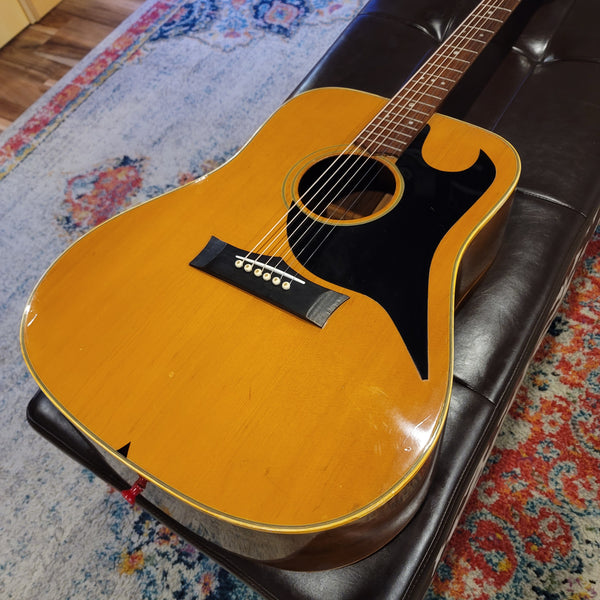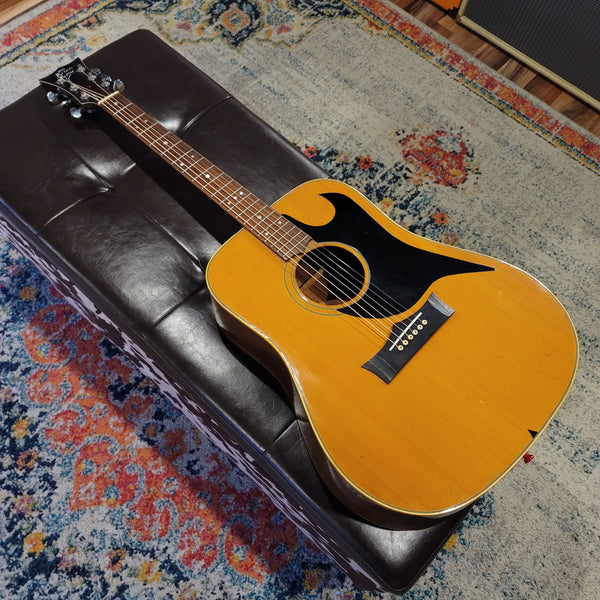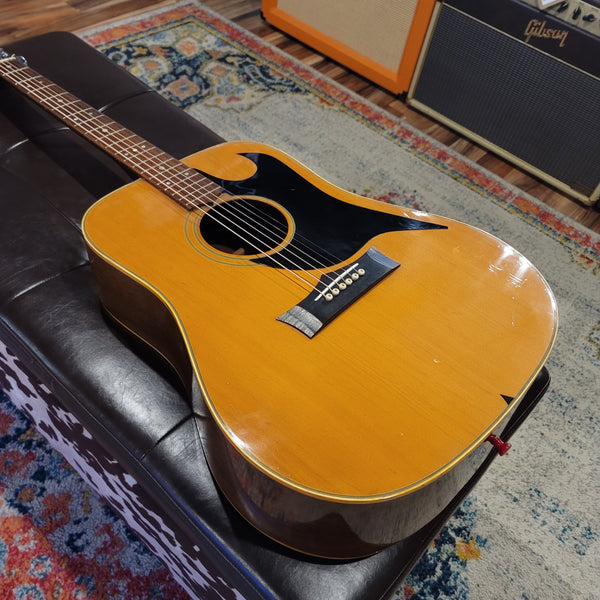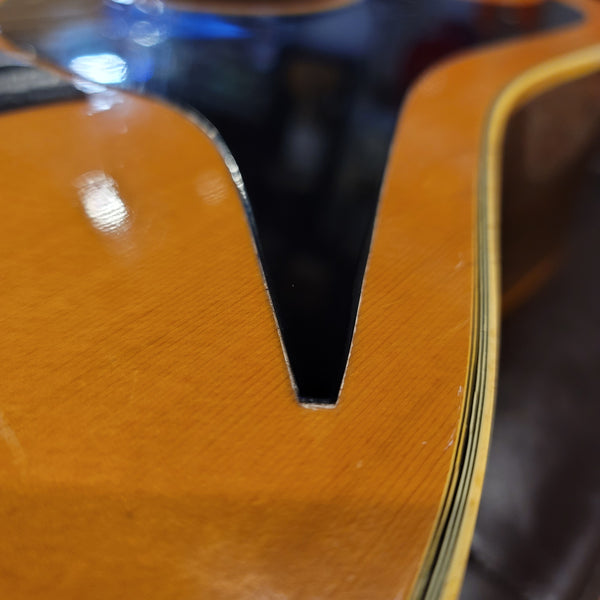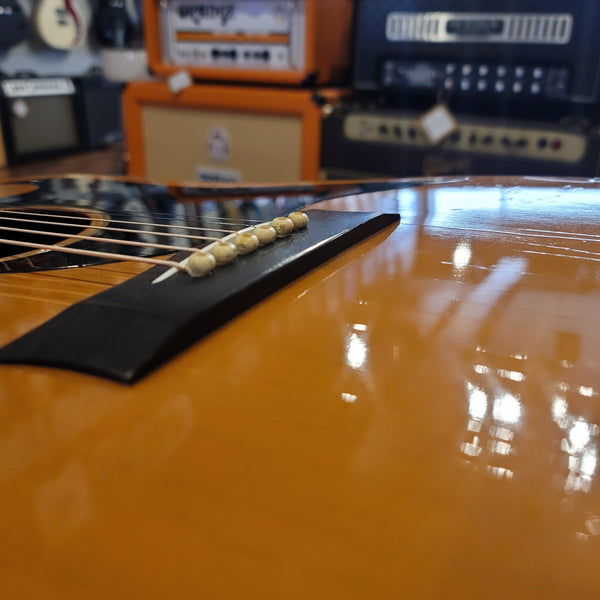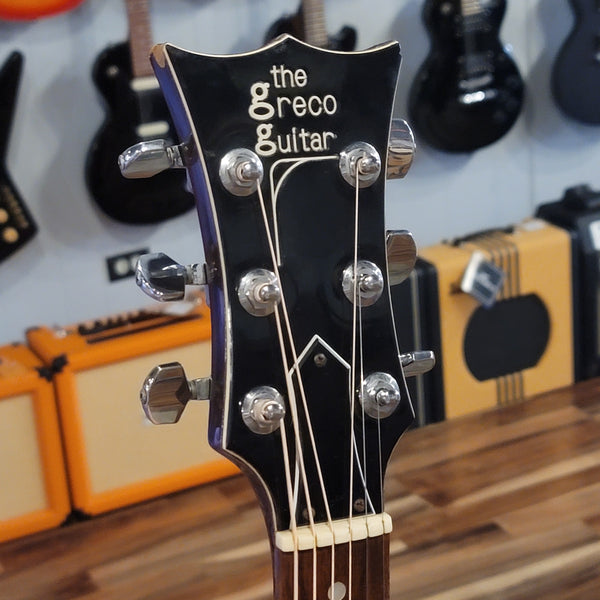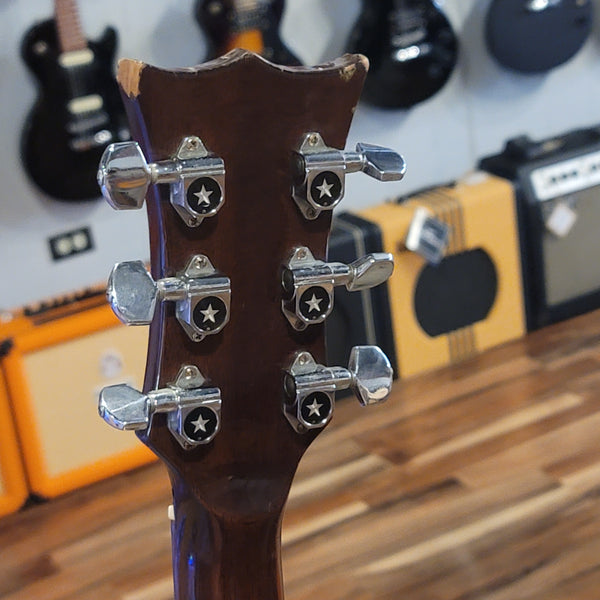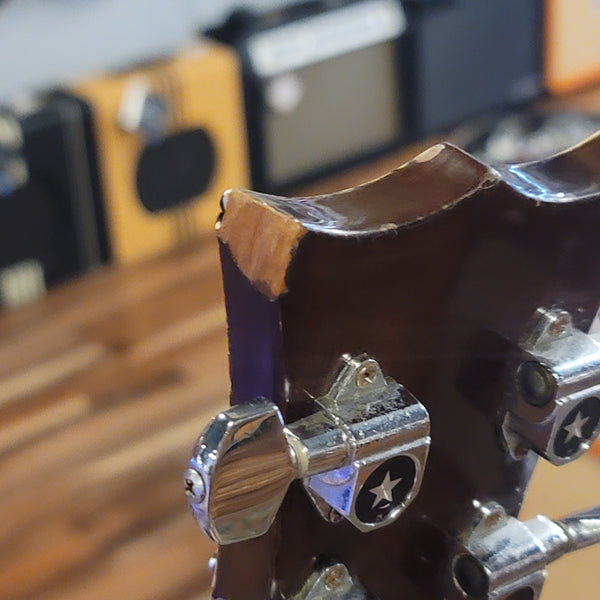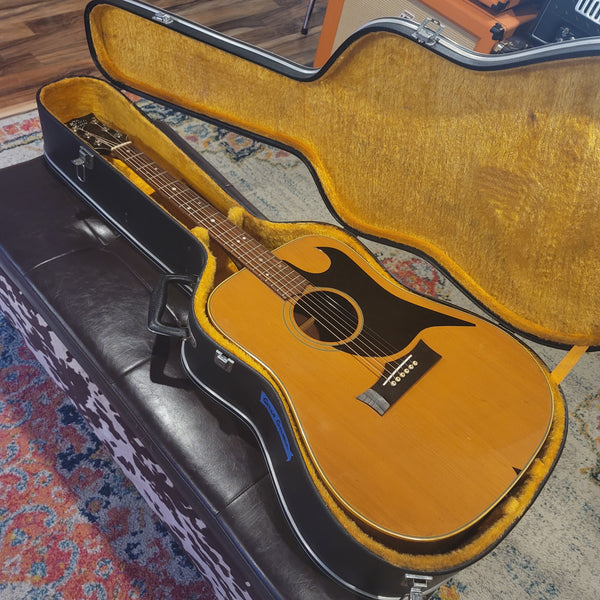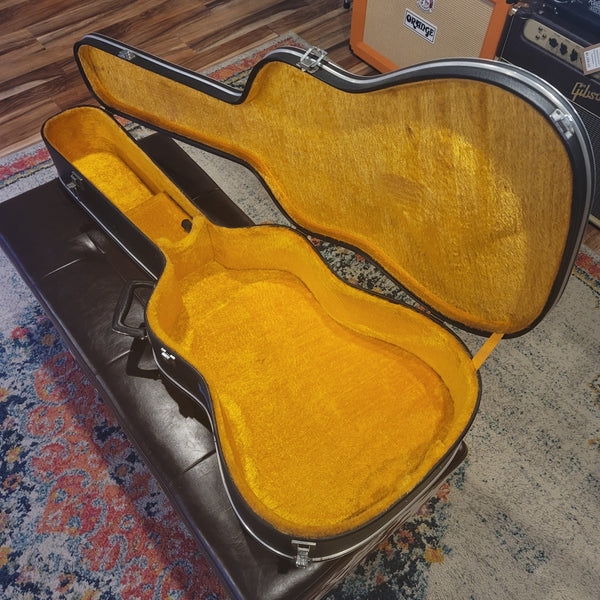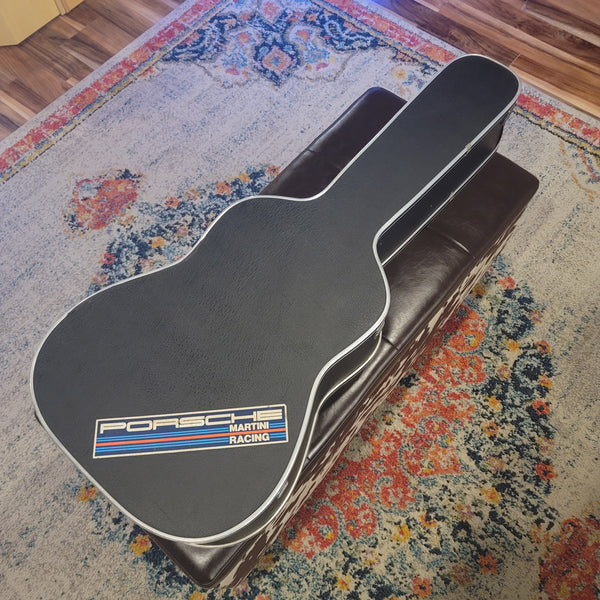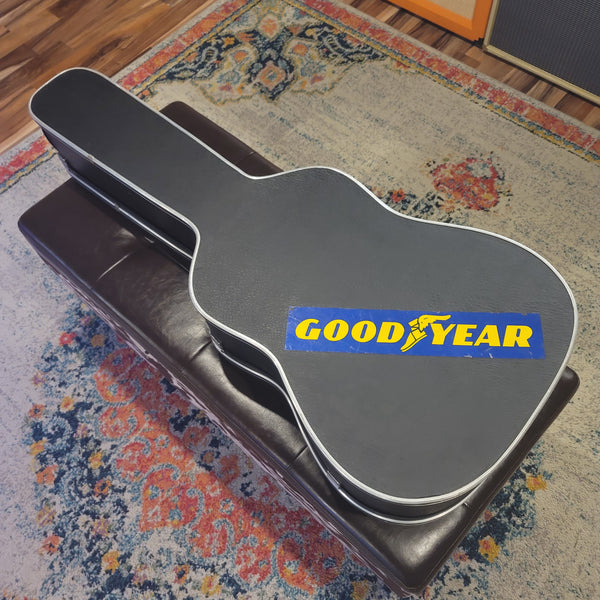 1970 The Greco Grammer Guitar - G40 - MIJ Dreadnaught
For your consideration, a lovely 1970 The Greco Grammer Guitar!
We have been enamored by Grammer Guitars and all things Grammer-adjacent for many years. We've got a prototype Jay Gower (Grammer co-founder) electric hanging on display in the store now, and recently had the pleasure of doing a deep inspection and documentation of an original '67 Greenburst Grammer. We're fascinated by their story and the iconic design elements that still make people's jaw drop to this day. We're also really into the instruments coming out of Japan in the late 1960s and early 1970s, so you can see how we fell hard for this funky Greco-built Grammer.  We've had our hands on all sorts of Grammer copies and all sorts of Greco copies, but never a Greco Grammer copy!
We took a lap with this one to compare it to the original. The structural bracing and top/back thickness are nearly identical to the original, and the level of accuracy in the marquetry and inlaywork is quite remarkable. The fit and finish is superb, and honestly nicer and less sloppy than any real Grammer I have held. It's a heavy dreadnaught that feels substantial in the hands. It has a huge sound, and it doesn't take much playing effort to create a lot of volume. It's louder than we expected it to be after seeing how it was braced and feeling it's weight. The weight is not a turn-off, and it isn't uncomfortable to play, we just wanted to point out that it has some heft to it. This guitar is pretty responsive and goes from sweet and warm to growling effortlessly. The sound is somewhat right in between a Gibson and Martin of the same era and size, which is exactly what the folks at Grammer were chasing. Neat! 
This guitar overall is in great shape. There is a small corner of the headstock missing that is not visible from the front. Check out that engraved headstock veneer, just like the original! The tuners, nut, and truss rod cover are original. The original truss rod nut was stripped, so we removed it and replaced it with a new one and a pair of washers for adjustability. The original truss rod nut is included. The neck is straight, and the original frets have plenty of life left in them. The neck joint has never been separated. No body cracks or signs of previous repair were found with a blacklight and borescope inspection. The bridge is firmly attached. The ornate and iconic pickguard lays flat and only has one tiny broken and missing corner that is barely noticeable. The original lacquer finish is checking nicely, and shows no signs of overspray. This guitar has been setup and restrung in our repair shop. 
The original hardshell case is also in great shape and has a pair of cool Goodyear and Porsche Martini racing team bumper stickers.