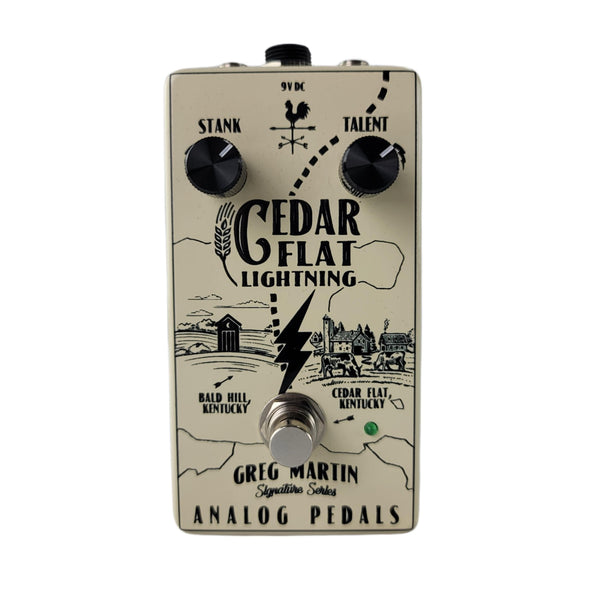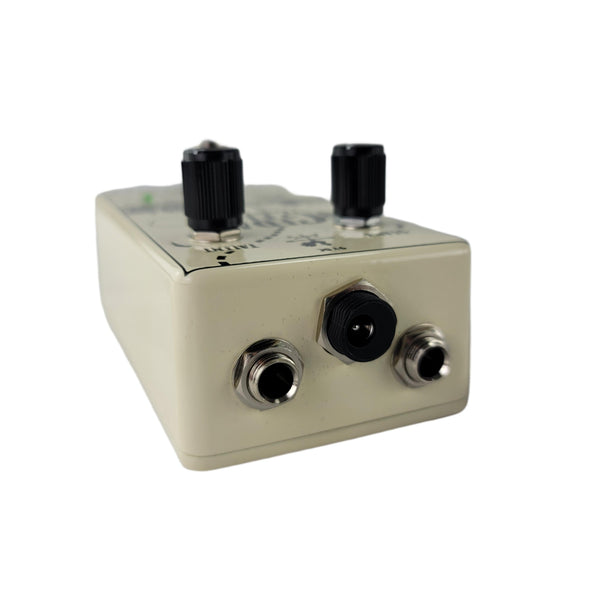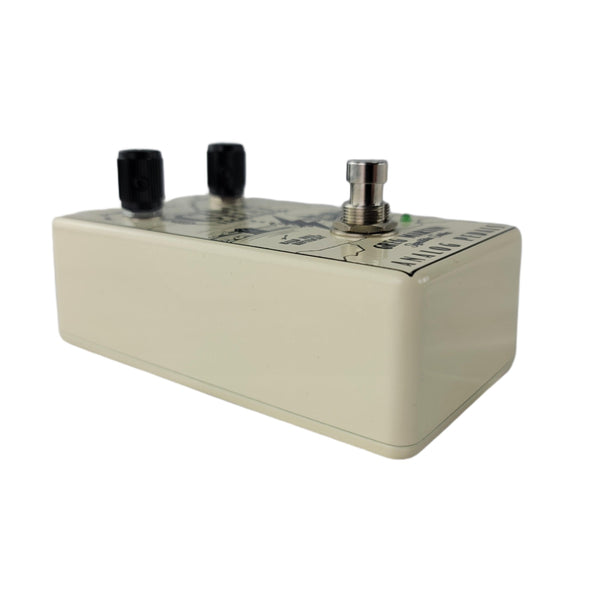 Analog Pedals - Cedar Flat Lightning V2 - Greg Martin Signature - Tone & Boost Pedal
Presenting,  the

 
Analog Pedals
 

- Greg Martin Cedar Flat Lightning.  The Cedar Flat Lightning V2 is a tonal shaping pedal that adds a volume boost without overdriving your signal.   
Back in the 70's, guitar players used to use a certain tape echo unit, bypass the echo and just use it for the preamp circuit built into the unit (although, the echo part of the unit is by far better than any delay/echo I've every heard).  We have taken this circuit and added a tone control to add a little more flavor and control to it.  End results are outstanding!    
External Power and/or 9v Battery
The Greg Martin Cedar Flat Lightning can be powered externally with a regulated 9VDC power supply eliminating the need for the internal battery. The external power supply connector is a 5.5x2.1mm barrel with center negative polarity. For the old school purist, there is also a battery snap inside.  
Warranty
Analog Pedals warrants this product against any defects that are due to faulty material or workmanship for a period of one year from the date of original retail purchase. This warranty does not include damage to the product resulting from accident or misuse. This warranty is given to the original purchaser only and it is not assignable to any other person.
If the product should become defective within the warranty period, Analog Pedals will repair it or replace it free of charge, provided it is returned freight prepaid to Analog Pedals with a valid RMA (return material authorization) number.
This warranty shall not apply to any goods that have been repaired or altered by anyone other than the manufacturer. There are no warranties which extend beyond the terms described herein.
Should you experience any difficulty with this Analog Pedals product, contact us at the address provided. If it is determined that the product must be returned to the manufacturer for repair, you will be issued an RMA and given shipping and packaging instructions.