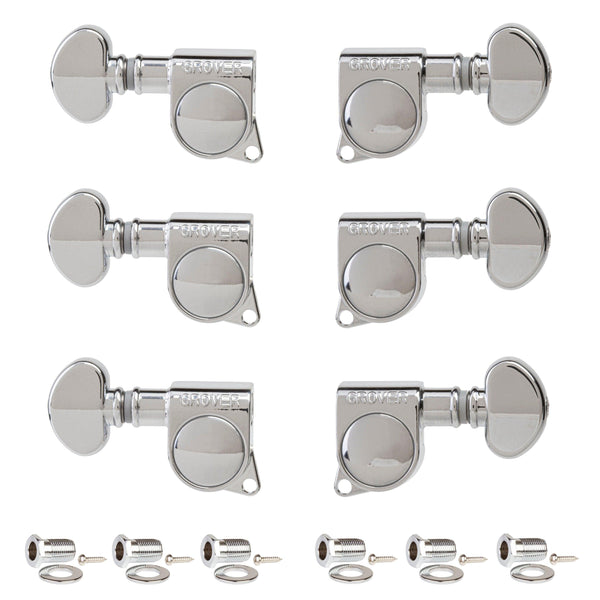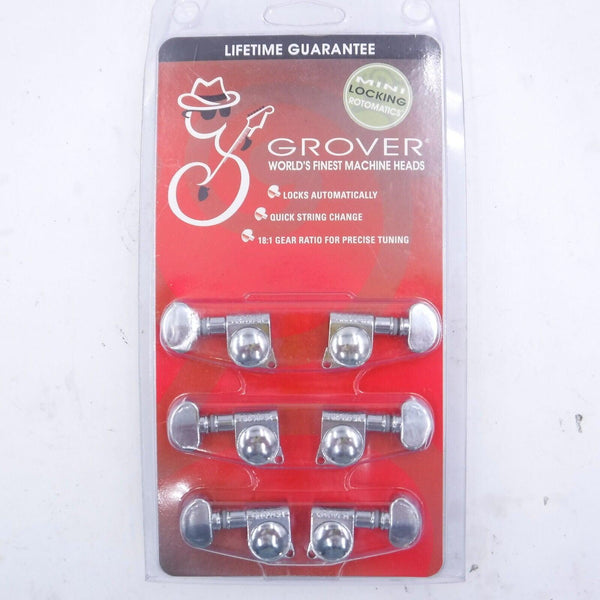 Grover 406C Mini Locking Rotomatic Guitar Tuners 3+3 Chrome
The Incredible Convenience of Locking Tuners
Grover Rotomatic 406C mini locking guitar tuning machine heads make quick work of tuning. With a gear ratio of 18:1, these locking tuners give you all the benefits of standard Rotomatics - plus the positive locking of Grover's internal cam post. Insert your string through the string hole, pull to tension by hand, and start to tune. As you begin tuning, only the locking cam in the string post turns. The string post begins to turn once the string is locked. In under one string post revolution, you'll be in tune. And you'll stay in tune, with Grover's Rotomatic 406C locking guitar tuning machines.
Grover: exceptional quality and lifetime warranty
Grover has been keeping the world's finest stringed instruments in tune for over a century. Grover started out in the late 1800's producing banjo and guitar tuning machine heads. Eventually the company expanded into making tuners for mandolin, dulcimer, ukulele, violin, pedal steel, and bass guitar. Inventor of the enclosed, permanently lubricated machine head, Grover tuners are original equipment on many of the world's finest string instruments. Grover employs only the finest materials and manufacturing methods, and stands behind their products with their lifetime warranty: "Should your Grover tuners ever fail, for any reason, simply return them to us for a fast and friendly no charge repair or replacement."
Grover Rotomatic 406C Guitar Tuning Machine Heads (Set of 6) Features at a Glance:
Set of six enclosed, permanently lubricated mini locking guitar machine heads
Internal cam post gives you effortless tuning and positive string locking
3 + 3 Configuration
18:1 gear ratio
Chrome finish
Includes 5/8" washers, bushings and wood screws
Grover Lifetime No-fault Warranty