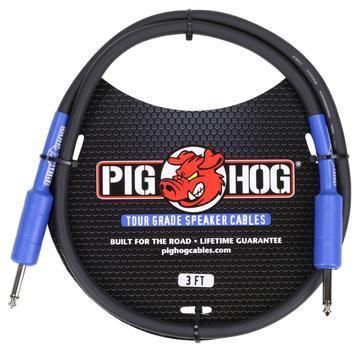 Pig Hog PHSC3 3' Speaker Cable 1/4" to 1/4" Tour Grade
Pig Hog PHSC3 9.2mm Tour Grade Speaker Cable, 3(14 gauge wire)


Pig Hog wants you to know:

Pig Hog cables are precisely overbuilt to stand up to the most grueling tour conditions imaginable. They feature extra-thick 8mm wire, performance quality connectors, and tension-resistant stress relief. And with Pig Hog's "no question" lifetime guarantee, we've got your back for the life of the cable. Don't settle for those fat-free cables. Grab hold of a Pig Hog!
High-performance speaker cable
9.2mm high-quality rubber outer covering
14 gauge wire
Heat shrink protected connectors
 This is a brand new item in original factory packaging. Cumberland Guitars is an authorized dealer of Pig Hog® products.