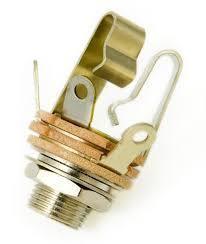 Switchcraft #4651 - Switchcraft Output Jack, Stereo, long thread Guitar Bass Pedals
The industry standard for output jacks.
These Switchcraft™ jacks accept standard 1/4" plugs. A mono jack is suitable for most guitars; a stereo jack can be used for stereo wiring, or to enable onboard active electronics when a 1/4" mono plug is inserted.
Choose the long thread jack for guitars and basses that have a thick top or control plate. The extra threads give the nut a bit more to bite on. Great for older Gibsons like the SG and EB bass.
Required mounting hole diameter: 3/8" (9.53mm)
Thread: 3/8 x 32
Thread height: 3/8" (9.53mm)
Mounting nut and flat washer included.