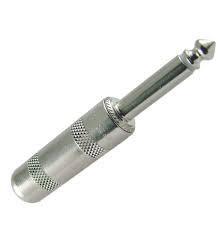 Switchcraft Male 1/4" TS Mono Jack Plug Cable Mount 280
Switchcraft 280 TS commercial 2-conductor phone plugs feature knurling on the handles to provide a convenient, positive fingertip grip for connect and disconnect.
Switchcraft 280 TS Features:
Heavy duty machined copper alloy handle (shielded
versions), tip and body for unsurpassed ruggedness.
Bright nickel plating on exterior surfaces will not chip
or corrode.
Solder terminals are tin electroplated for ease of soldering.
One-piece tip rod staked into tip terminal ensures electrical continuity.
Heavy duty cable clamp provides secure strain relief.
Shielded handle versions recommended for applications where electromagnetic interference and physical abuse may occur.