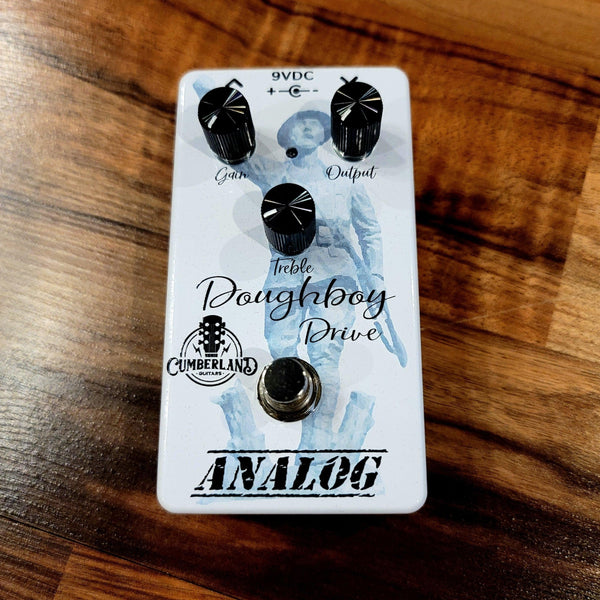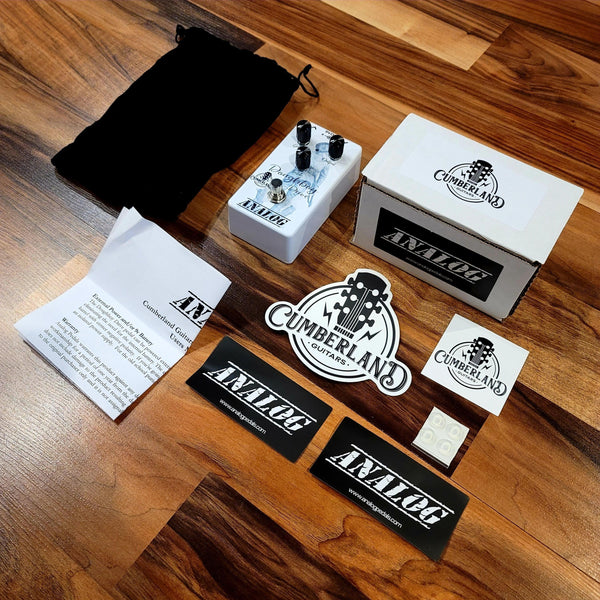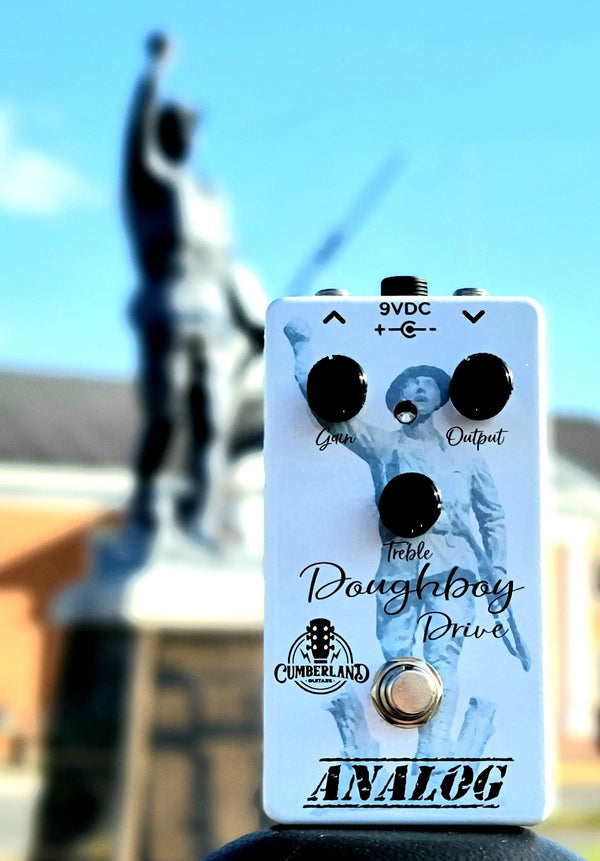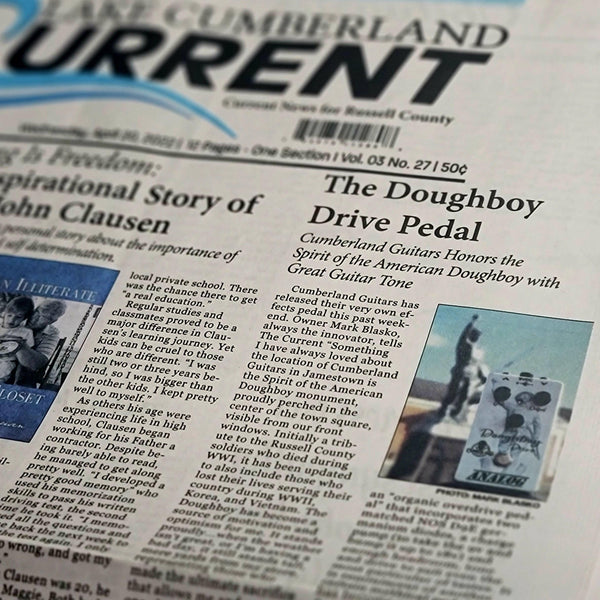 The Doughboy Drive - Handmade Overdrive Guitar Pedal
The Doughboy Drive - Honoring the Spirit of the American Doughboy with great guitar tone.
Something I have always loved about the location of Cumberland Guitars in Jamestown, Kentucky, is the Spirit of the American Doughboy monument, proudly perched in the center of the town square, visible from our front windows. Initially a tribute to the Russell County soldiers who died during WWI, it has been updated to also include those who lost their lives serving their country during WWII, Korea, and Vietnam. The Doughboy has become a source of motivation and optimism for me. It stands proudly...when the weather isn't great, or I'm having a bad day, it still stands tall, mere yards from my store, representing those who made the ultimate sacrifice that allows me and everyone else in the country the freedom to do things like be able to have a bad day in a guitar shop and come up with cool stuff like this pedal. We're truly grateful! 
The Doughboy Drive is an organic overdrive pedal that incorporates two matched NOS D9E germanium diodes, a charge pump (to take the 9v and bump it up to 18v) and enough headroom, tone and drive to suit even the most particular of tastes. It is reminiscent of another certain mythical pedal that has become unobtainable for most players. It's quite expressive and responds well to the playing nuances coming from your guitar. This pedal can easily be your "always on" foundation for your whole rig and is fantastic as a boost pedal for sending your amp into the perfect amount of overdrive. It plays well with others and shines when stacked with other drive pedals. It's smooth... we have tested prototype examples in the store for a few months and we continually hear our customers say that the pedal is a little bit more musical and sweeter, or less harsh than other pedals in this category that they have played or owned. 
Only 30 of these premium Doughboy Drive pedals were made. 
Inside the box, a soft storage pouch is included, plus  a quartet of stick-on feet if you'd like to attach them to the bottom of the pedal, and of course, stickers from Cumberland Guitars and Analog Pedals, and warranty paperwork.
A portion of the proceeds will go to Guitars-4-Vets, a non-profit organization that is doing incredible things to support our veterans with the healing power of music. 
Handmade right here in South Central Kentucky!
We partnered with Analog Pedals of Knifley, KY to produce this pedal. Their commitment to fantastic guitar tone and killer pedal designs really stands out to us, and we are grateful to have them in the the area. This pedal was made from scratch using quality components and was designed, prototyped, and manufactured in the US. 
Learn more about the Spirit of the American Doughboy