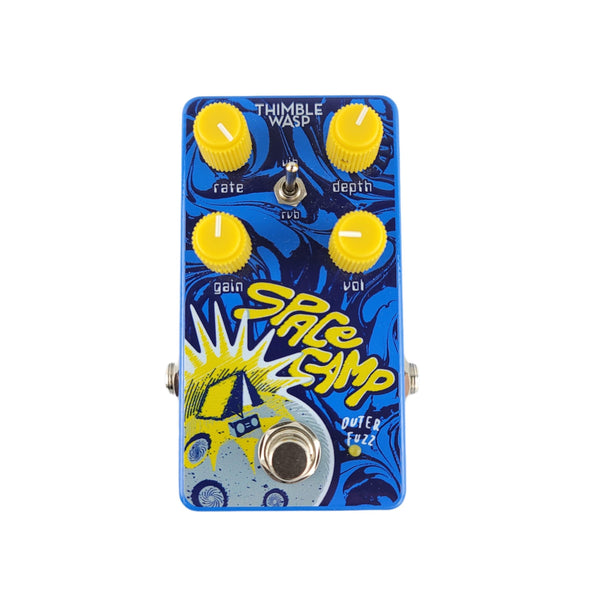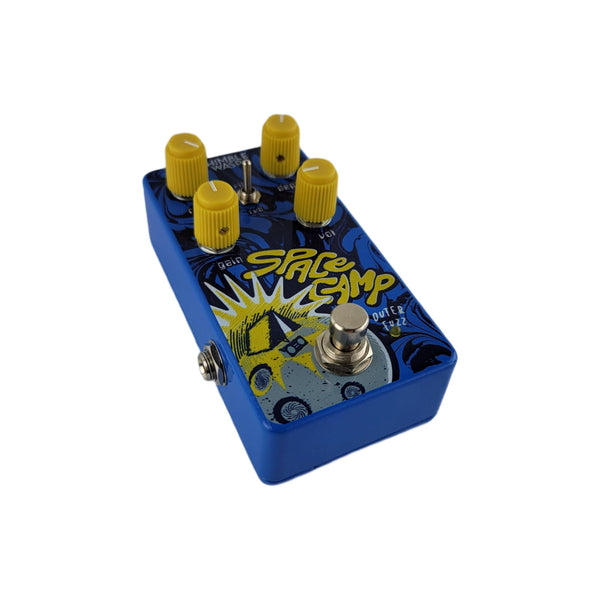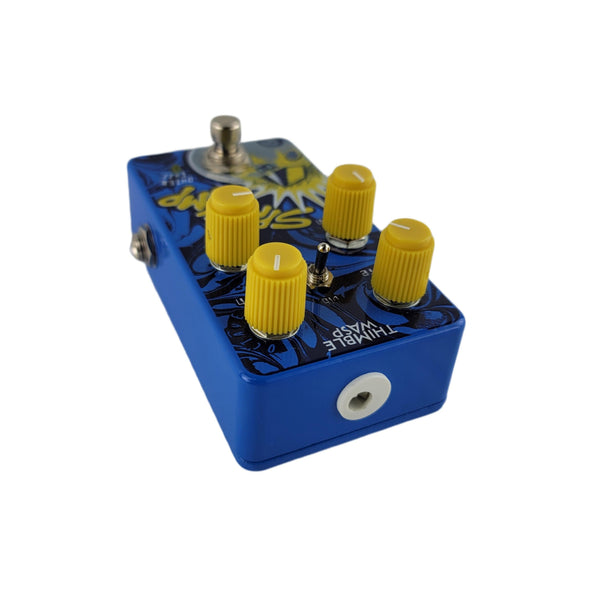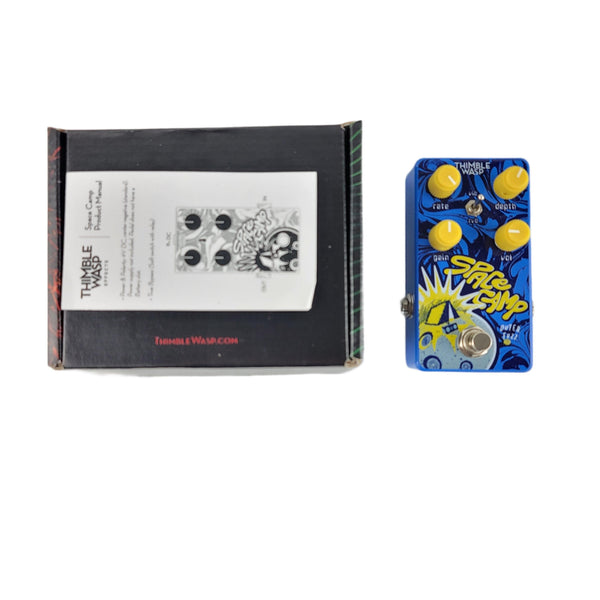 Thimble Wasp - Space Camp - Fuzz, Reverb, Vibrato Pedal
Space Camp combines fuzz with vibrato or reverb for a dark, deep and complex sound. The effect can range from out in space or in your face.
Set the fuzz high and the vibrato fast for a dirty, sonic, warping texture or try low fuzz and a slow vibrato rate for something more classic. Set the reverb long and fuzz high for some sonic destruction as the fuzz mangles the reverb tail, or set the reverb short and fuzz low for subtler sound that still add character and ambience.
The depth knob is divided into 2 halves, to give an additional effect. The 1st half controls the depth of vibrato or reverb from 0-100%. The 2nd half also controls the depth from 0-100% but adds a gritty octave up effect (Think broken up, distant transmission, barely reaching your extraterrestrial radio). 
Tech Talk:

The FV-1 chip powers the vibrato and reverb effects. The fuzz is a simple but unique transistor and diode arrangement. The fuzz knob is a dual potentiometer, controlling both a pre-dirt boost, and the gain of the transistor stage, to get the biggest range from low to high gain. This fuzz does not care whether it is first in the chain, or after a buffer or other effects.  
The vibrato is a true pitch vibrato, rather than a uni-vibe effect. On either vibrato or reverb mode, the depth can be turned all the way down to access a simple fuzz effect.
The octave effect behaves similar to several classic analog octave up circuits. It doesn't produce a clean, polyphonic octave, but rather a dirty, glitchy octave sound, full of character. For the most pronounced octave effect, use the neck pickup on single notes higher on your fretboard.
Specs:

+ Fuzz with vibrato OR reverb toggle switch
+ Size: 
4-5/8" x 2.75" x 1-15/16"
+ Side Mounted Jacks
+ True Bypass (Soft switch with relay)
+ Power & Polarity: 9V DC, center negative (standard). 73mA Draw. Power supply not included. Pedal does not have a Battery slot.
This is a new pedal sold by an Authorized Dealer. All original packaging, sticker, and paperwork is included.