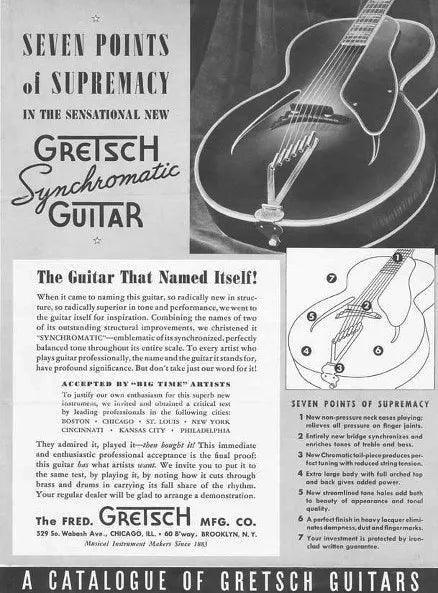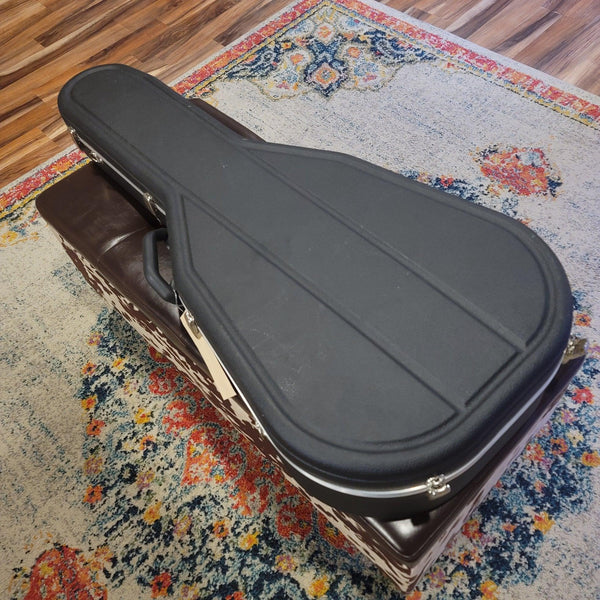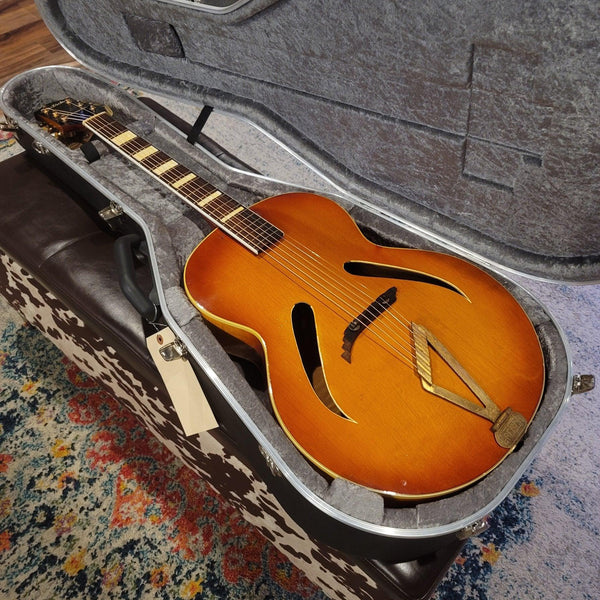 1942-1943 Gretsch Synchromatic 160 "Cat's Eye" Archtop - WWII-Era
For your consideration, a lovely WWII-era Gretsch Synchromatic 160 Archtop Acoustic Guitar.
Few models from the Art-Deco era of American guitar building command presence like a Gretsch Synchromatic. They're large and opulent, and truly a work of art.  Just look at it... look at the perfect placement of the massive "Cat's Eye" F-holes. Look at how much time and thought went into perfecting that deep carve on the top and back. Check out the detailed stairstep carving of the Rosewood bridge. It's a case study in restraint, balance, etc... I could talk all day about how absolutely perfect this guitar is from a design perspective. Actually, talking all day about the designs of Gretsch is something that I did as a Gretsch employee for several years before opening this shop. I've had the honor of handling a lot of historically important Gretsch guitars over the years and I can honestly say that getting to be around a true WWII Synchromatic is a treat, every single time. 
On to this beauty...
This guitar is serial #725. The original tuners have been replaced with large period-correct Grovers that look great, but leave the original mounting holes visible on the rear of the peghead. Check out that original peghead overlay! The neck is straight with no issues. It's a rather chunky neck and was actually the first commercially available asymmetrical guitar neck. Gretsch sold this as a feature to reduce hand fatigue and keep your hand properly aligned. The frets are original and still have plenty of life left. The rosewood fingerboard and large block inlays are original. The neck binding appears to be original, but the treble-side strip has been reglued at some point. The original pickguard is missing and the guitar appears to have had a second guard on the bass side of the instrument at some time. No body cracks or signs of previous structural repair. The super thin binding around the F-holes (eye holes?) have a small piece missing, which is typical on this model. The plastic tailpin has been replaced, and the original hole was not enlarged to fit a standard pin, which is something we see regularly on these. The guitar plays fantastic and has a unique voice that is brighter than most acoustics this size. Check out that gorgeous Maple back! The original lacquer finish is checking, and the cherry stain is still exceptionally vibrant. This guitar stands out from across the room in our store!  A very nice and perfectly fitting Hiscox hardshell case is included. Please contact the store for an in-hand description or if you have any questions.